JUNIOR COMPETITION – DETAILS FOR 2021 COMPETITION
The competition is played at Rowland Park Banks Avenue Daceyville on Monday Afternoons. The new start date is  Monday 1 November 2021.
Get ready, it's nearly Summer Touch time again. Parents can arrange teams for their children to enter a team to play on Monday afternoons at Rowland Park Daceyville. If you don't have a team you can enter as an individual and we will place you into a team. 
Team Registration will Close on Saturday 23 OCTOBER 2021. This is due to the quick turn around to set up the competition.
Click here to JOIN YOUR TEAM – Ask you Team Organiser for your Team Code. Select I'm Registering for the First Time
After you register your team online, a memo will be emailed to team contacts with competition details. All teams will receive their touch ball on the first week of competition or can arrange earlier collection if required.
Competition starts on MONDAY 1 NOVEMBER for 7 rounds. The last round of competition will be 13 DECEMBER 2021.

 
Click on this link to start the process. 

Competition Format and Details are listed below. 
Any individuals wishing to join a team must register via

this link

by Friday 22 OCTOBER 2021.  Due to the quick turn around for registration, we will do our best to find you a team.  
COVID-19 SAFETY PLAN 
ESTA would like to thank everyone for their patience and support as we finalise our Junior competition conditions for the 2020 season.
As we all know COVID-19 has forced many changes for volunteer run community based sports and we have worked hard to provide a safe and fun competition for the kids and a compliant format that is manageable for our officials.

Please see below some of the major competition regulations.
1. Timeslots will be 30 minute. There will be a 10 minute break between games to allow players to leave the park when finished.
2. Each team will be allowed 1 coach, 1 manager and 1 parent/carer per child at each game.
3. Please check your field allocation prior to arrival at Rowland Park and park as close as possible to your field. Please enter Rowland Park and arrive at you field a maximum of 5 minutes before your time slot.
4. Check in using our QR code which will be available at your field. All persons over the age of 16 MUST be double vaccinated to attend. Parents/carers, coaches and managers must check in. Please stay at your field while in attendance, we would like to limit movement around the fields. Please check in for each game you are attending. COVID Safe officials will be onsite to verify checkin's and ensure this process is followed.
5. Please LEAVE Rowland Park IMMEDIATELY after your game is complete. Please go directly to your car.
6. Parents are reminded about social distancing.
7. Players are recommended to use hand sanitiser prior to and after their games.
8. Game ball MUST be sanitised prior to and after play.
It is only with everyone's help and support that we can have an enjoyable touch footy season, so please assist by arriving and departing the grounds as per the above instructions.
Please see more conditions on the attached images. Again, thanks for your help and support.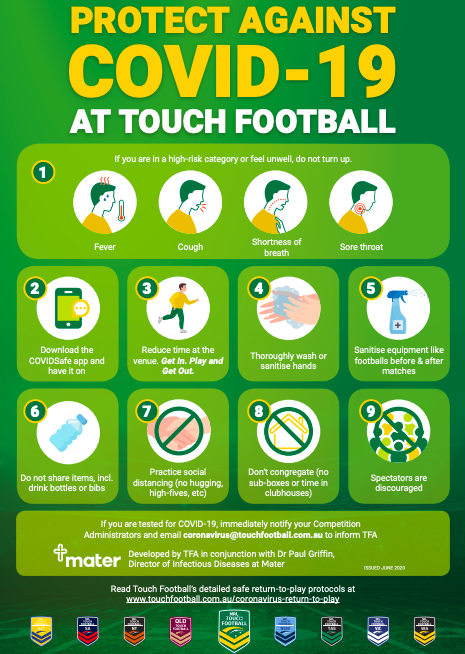 Competition Format and Regulations
It is suggested that the team contact carries out the following steps to assist in the organisation of team members:
Ensure your team has organised T-Shirts with numbers.Teams are required to be wearing their team T-Shirt by Round 1. We recommend no fluro yellow as this is the referees colour.

REGISTER your TEAM ONLINE via the team registration link above.

You must register and pay online by Monday 25 OCTOBER 2021. Ensure you collect registration fees from players if you have paid the money for other kids.

For insurance purposes, each team member must register online by Round 4. You must join your team using the team code that is issued to the team contact when they register online.

 

Link to be added.
2021 Junior Summer Touch Competition
Competition Dates – Starts Monday 1 November 2021 (7 Rounds ) and Finishes on Monday 13 December 2021.
Game times:
4:15 pm (Early Game)  4:45pm and 5.25pm (Middle Games) 6.10pm(Late game). Games will be 30 minutes inlength as per our COVID-19 Safety Plan
Sections
Girls

Under 6's, 8's, 10's, 12's, 14's, 16s.

Boys

Under 6's, 8's, 10's, 12's, 14's, 16s.

Mixed

Under 6's, 8's, 10's, 12's, 14's, 16s.
Entry Fee's inc GST
Under 6's, 8's, 10's   ( 5 – a side/modified field)

$600

7 weeks

Under  12's, 14's, 16's, 18's  ( 6 – a side/full field)

 $600 7

 weeks

All registered players will be insured.
WET WEATHER UPDATES
'Like Us'  on Facebook for Wet weather updates OR go to the Easts Touch website for any wet weather updates and field closures. A decision will not be made until 3pm on game day.